INFORMAÇÕES DO JOGO
Categoria: Jogos de PC
Gênero: Luta
Ano de Lançamento: 2015
Tamanho: 31,3 GB
INFORMAÇÕES DO ARQUIVO
Fabricante: NetherRealm Studios, High Voltage Software
Formato: ISO
Crack: Incluso
Idioma(s): Inglês, PT-BR (Fala, Menu e Legendas)
SINOPSE: Mortal Kombat X é a décima edição da renomada franquia de pancadaria sanguinolenta da Netherrealm Studios. O game dá continuidade à proposta de Mortal Kombat 9, apresentando novamente um a jogabilidade focada na perspectiva de luta bidimensional e trazendo novamente os clássicos movimentos de misericórdia — Fatalities e barbaridades afins.
Há também um retorno digno de nota na décima edição de Mortal Kombat. Trata-se dos famigerados movimentos "X-Ray" (Raios X), aqueles que mostram mandíbulas, costelas e vários outros ossos despedaçados após golpes particularmente devastadores — embora, curiosamente, as vítimas sempre continuem andando e falando normalmente após as animações.
Mortal Kombat X também oferece um recurso tornado popular em games como Injustice: Gods Among Us. Basicamente, sempre será possível catar pedaços dos cenários — ou se dependurar em alguns locais — para descer o sarrafo nos inimigos. Por fim, cada personagem ainda deve trazer três estilos de jogo distintos, alternáveis durante os combates.
Há também uma variação da conhecida "Challenge Tower". Trata-se da "Living Tower", em que as condições de combate sofrem alterações constantemente, oferecendo desafios adicionais. Ademais, as "Faction Wars" permitem que os jogadores se dividam em cinco facções distintas (Black Dragon, the Brotherhood of Shadow, the Lin Kuei, Special Forces e White Lotus) para combates ranqueados em ambiente online — com recompensas ao final de cada semana.
Mortal Kombat X (PC) – Torrent (2015)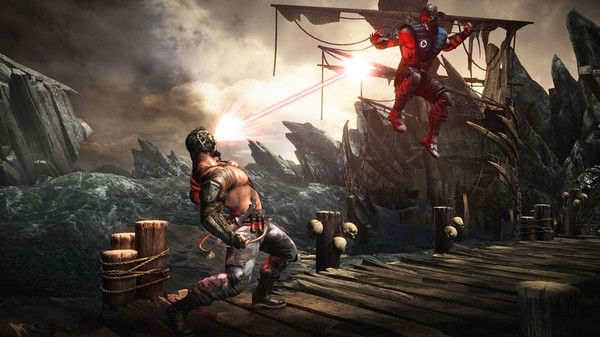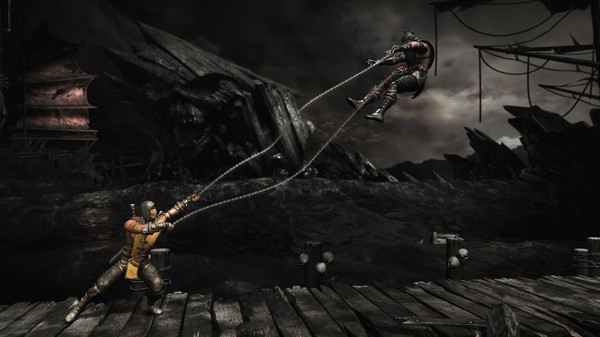 Caso haja algum problema de reprodução: K-Lite-Codec-Pack
COMO INSTALAR:
1. Monte a ISO
2. Instale
3. Copie o conteúdo da pasta CRACK pra pasta de instalação do jogo
4. Jogue
Para deixar em PT-BR, após crackear, altere a ultima linha do arquivo steam_api.ini de english para brazilian